Credit: Facebook
The 7 Most Popular Jobs of 'Bachelor' & 'Bachelorette' Contestants
We're always making a big deal out of the wacky Bachelor and Bachelorette contestant job titles, like "chicken enthusiast" or "free spirit," but what about the other folks?
In reality, the majority of contestants over the franchise's collective 33 seasons have had pretty normal gigs of the doctor and lawyer variety.
Actually, upon further review, there are some professions that just keep popping up, year after year. Maybe the casting directors have a type — they sure do when it comes to looks! — but it's all starting to get very familiar.
As a refresher, we've listed out seven of the most common careers of the ladies and gents who have walked into (and some quickly out of) Bachelor Mansion in the last decade.
Personal Trainer
Makes sense fitness instructors and trainers would want to go on this show — their hours are flexible, they can get new clients, and of course, they might find love.
Some of our favorite beefcakes include Cody Sattler (Season 10), Ben Zorn (Season 11), Shawn Booth (Season 11), and (yay a girl!) Elyse Myers (Season 16).
Model
Most of the contestants on these shows are good looking, so it makes sense there would be models in the bunch.
Ben Flajnik's winner (and "villain") Courtney Robertson might have been the most successful pre-show, posing for a number of major brands and commercials. However, Bachelor 19's Jade Roper also made waves with her Playboy past, while Drew Kenney (Season 9) and Daniel Maguire (Season 12) represented the male contingency.
And it doesn't end after the show! Nick Viall (Seasons 10 and 11) and Brooks Forester (Season 9) have both since signed contracts with major modeling agency, Wilhelmina!
Entrepreneur/Business Owner
These are sort of a general terms for "business people," but it started with fellas like People Water co-founder Jef Holm (Season 8), Ben Scott (Season 9), and Chris Bukowski (Season 8) who all wore the title on their sleeve. Plus, we got "pantsapreneur," JJ O'Brien.
Girl power emerged in full force on Nick Viall's Bachelor Season 21 with a number of "business owners," including Corinne Olympios, who helped run her dad's "multimillion-dollar" company, fashion boutique owner Raven Gates, and nail salon owner Danielle Lombard.
Sales or Marketing Representative
Another vague (and boring) job title, but someone's got to do it!
Those someones are everywhere in the show's history, most notably with Bachelor 20's Ben Higgins, Caila Quinn (Season 20), Nick Viall (Season 10 and 11, and Bachelor 21), Chase McNary (Season 12) and Vienna Girardi (Season 14).
Real Estate
Dancer/Cheerleader
Esthetician/Hairstylist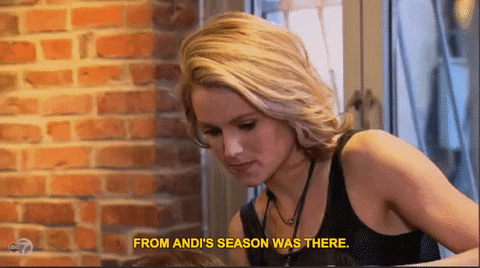 Ever wonder why all of the girls on particular seasons are wearing the same hairstyles (the top knot, the sidebraid, etc)?
That's because there's always a designated hairstylist or esthetician, like Amanda Stanton (Season 20), Clare Crawley (Season 18), Juelia Kinney (Season 19), and Ashley Salter (Season 19).