Credit: Sascha Steinbach/Getty Images
When Celebrity Faces Become Memes: Adele, Trump, Chrissy, & More
Sometimes, a split-second moment in a celebrity's life is all it takes for him or her to go viral, as the Hollywood notables below can attest.
All of these nine celebs have had their faces and/or facial expressions spawn Internet memes… and we thank them for their service!
Adele Upside-Down
Check out this photo of the 25 singer with everything but her eyes and mouth turned upside-down. Now flip your mobile device and say "Hello" to your new nightmare.
Maybe Adele 's next song will be "Turning Tablets"…
Donald Trump's Lip Eyes
After a Twitter user named Danny (@recordsANDradio) noticed this presidential candidate's narrow eyes look an awful lot like his pouty mouth, he Photoshopped the Don's lips onto his eyes… and there was barely any change.
Ariana Grande's Flinch
After model Elsa Hosk's wings clipped the "Love Me Harder" singer at the 2014 Victoria's Secret Fashion show, her flinch face became an instant meme.
"It was awesome," Ariana tweeted after the incident. "#bangbangintomyface."
When someone took an already unflattering photo of Demi Lovato from the 2014 Royal Variety Performance and exaggerated her features on Photoshop, a Tumblr user named the result Poot Lovato and claimed she is Demi's twin sister who was locked in the basement her whole life.
"Cool to see a s—tty angle turn into a meme that circulates the Internet to people's amusement," the Confident singer wrote, probably sarcastically, in a now-deleted tweet.
Kim's Cry Face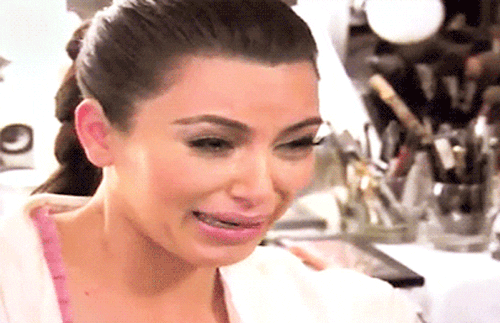 Kim Kardashian's tearful, on-screen realization that she's not in love with then-husband Kris Humphries has since gone viral, and even Kim has gotten in on the fun, including an emoji version of the cry face as one of the options on her Kimoji app.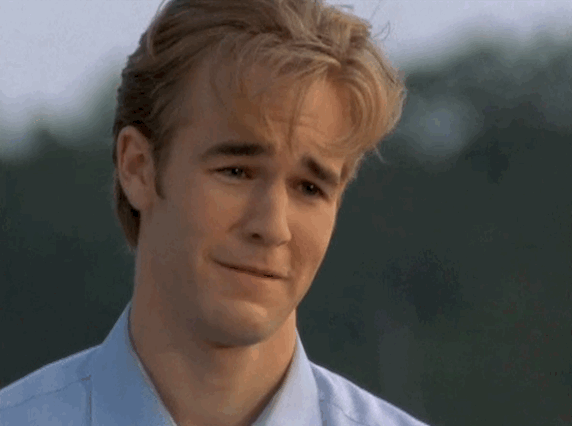 No cry face is more iconic, however, than the one Dawson Leery aka James Van Der Beek deployed in the Season 3 finale of Dawson's Creek, when a self-sacrificial Dawson helped Katie Holmes's Joey realize she was in love with Joshua Jackson's Pacey.
McKayla Is Not Impressed
At the 2012 Olympic Games in London, American gymnast McKayla Maroney followed up a flawless vault with a faulty vault, resulting in a second place finish.
As she stood on the podium with her silver medal, press photographers captured the ultimate "not impressed face," which instantly went viral.
She even reprised the face during an Oval Office visit, with President Obama joining in on the unimpressedness.
Speaking of our Commander in Chief, he and wife Michelle Obama were impressed and/or surprised by something during their 2011 visit to Buckingham Palace, resulting in this meme.
Chrissy Teigen's Stacey Dash Cringe
At the 88th Academy Awards, ABC's cameras were trained on Saoirse Ronan but happened to catch the latest, greatest Chrissy Teigen reaction face in the background — as the model couldn't hold back her cringe during that bizarre Stacey Dash appearance.